Saturday 24 January 2015
3:15 pm – 7:15 pm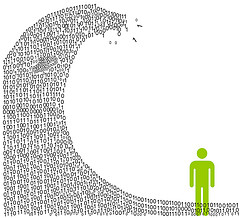 Every week we hear about new hacks and bugs affecting individuals, companies or entire countries. Come spend an afternoon with us discussing the basics of how the Internet works, how its weaknesses are abused, and how individuals, developers, companies and governments can do their part to keep us safer online. Talks will be aimed at people with little or no IT background to introduce basic concepts of internet security, prompt discussion of recent news stories and recurring issues in online security and provide a foundation for future learning.
Topics introduced will include: Bad guys: who they are, what they want and how they get it. Security on public and private WiFi. Internet routing and website names (DNS). Introduction to cryptography. Website certificates. Email encryption. Signed messages and signed software.
RSVP (optional) via the event's page at meetup.com
Image by intersectionconsulting (CC BY-NC)