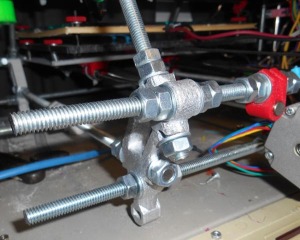 HacDC member Julia Longtin will give a talk at the upcoming 31st annual Chaos Computer Club Congress in Hamburg, Germany, Earth, Milky Way. She will lecture about a process she has been perfecting over the past year for 3D casting aluminum parts via the lost PLA method using repurposed consumer microwave ovens to liquify the metal.
We use microwaves to cast aluminum from 3D printed [PLA] objects. This gives us the ability to cast high quality 6040 aluminum pieces using a 3D printer and commercially available consumer microwaves.

We manufacture microwave safe kilns for melting aluminum. We create microwave transparent molds that allow us to burn out plastic without heating the mold itself there[by] creating a quicker method of accomplishing the lost PLA process.
Julia's process is being developed as a contribution to the larger FOSSCar initiative, which aims to use an open source production and development model and recycled materials including refurbished and repurposed off-the-shelf technology to fabricate a road-worthy car.