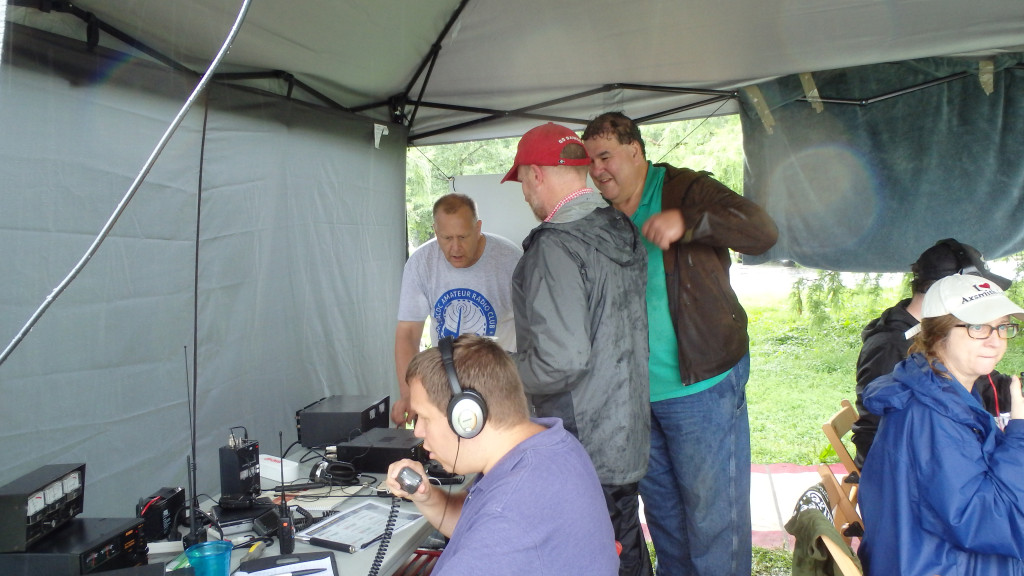 W3HAC on the air with Andrew (left foreground, KC9WER) and Christine (right foreground, KC3CIF) making radio contacts, and Don (K6ZO), Sumter (KM4ITT ) and Pat (K0oo) working on one of the transceivers.
On Saturday, June 26th, the HacDC Amateur Radio Club set up camp at Hains Point, Washington, DC, to enjoy a day away from home making radio contacts across the continent and testing its readiness to provide communication services in case of emergencies or disasters.  The weather answered the call with realistic challenges, as heavy rain brought flood conditions and tidal surges.  Though solar panels and a generator the club had ordered did not arrive in time for testing, Andy Roszak (call sign KC9WER) brought a 4-kilowatt gasoline-powered generator that enabled high-frequency (HF), very-high frequency (VHF), and ultra-high frequency (UHF) transceivers to operate all day long independent of the AC power grid.
A finger of land stretching south into the Potomac River and forming part of DC's 700-acre Potomac Park, Hains Point is home to a variety of recreational facilities including a swimming pool and a golf course.  Permit in hand, we set up our tent, transceivers and antennas out towards the park's southern tip at a spot nestled into the treeline. With a fine view of Potomac River tour boats and the airport across the river, we settled in for an idyllic day of ham radio.
Thunderstorms warned of in weather reports never materialized, but the "minor inundation of low-lying shoreline" that the National Weather Service predicted delivered as promised.  Heavy rain progressed through the afternoon until soaks from above, seeps from the ground, and surges from the river combined to drive us out antenna, transceiver, and tent from our campsite.  At last, just as we sought a dubious higher ground at the nearby parking lot, the Park Police came out and told us to pack our things and go: "How long are you people planning on staying here?"  The water was beginning to flood our exit road.
Proven this time out was our continuing ability to operate "in the field," even under adverse conditions.  Spirits were high throughout, proving once again that everything is more fun in driving rain and mud, with wet feet.  Wait . . . did I type that?  In fact we had a blast out there!  Next year maybe we will make a camping trip of it.
Andrew (KC9WER) captured some fine video of the event with his GoPro, which you can now see here:
 And, here's a sampling of the weather we encountered:
Tour boats plied the swelling river.  Just out of view in the foreground, so did a cluster of ducks.

With the high water driving us from our campsite, Darian (AB3WB) collected his antenna, guy wires first.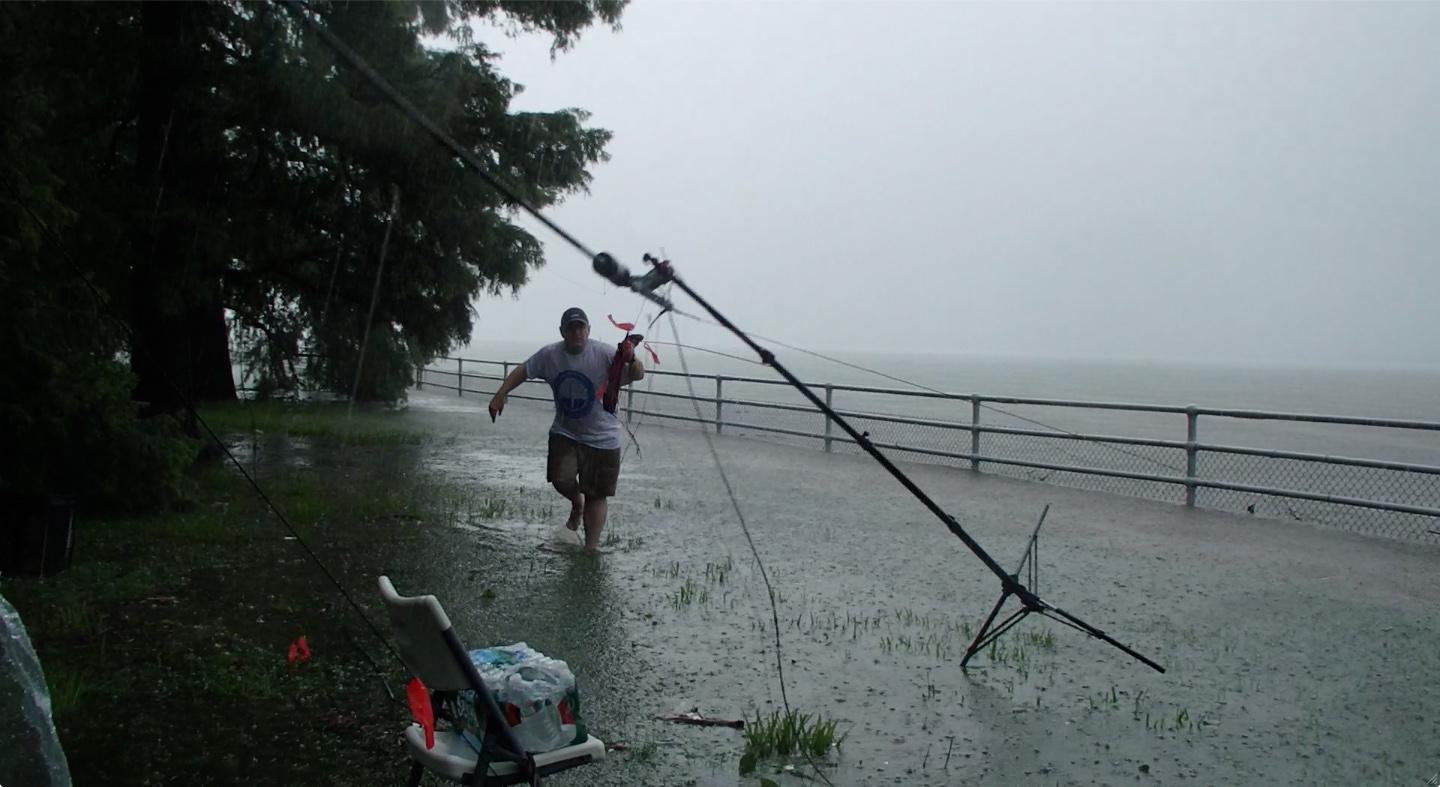 Our escape from encroaching water got a little help from gravity.
For more pictures of Field Day 2015 with W3HAC, visit our companion site at https://www.harc.hacdc.org/!