HacDC's biohacking group has developed a new, ultra-low-noise biosignal amplifier and released it under the GPLv3.
The Mirage335 Biosignal Amp makes brainwave (EEG), heart (ECG), and muscle (EMG) detection all possible without reconfiguration.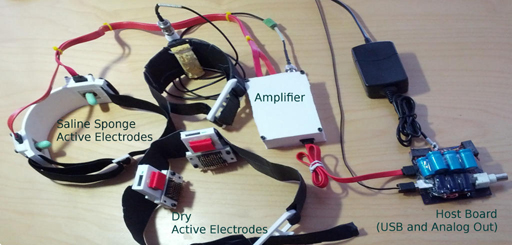 Lead designer, mirage335, writes:
This system is geared for maximum performance close to theoretical limits. Ideally, the lower noise floor allows us to confirm the presence or absence of weak biosignals, especially electroencephalography signals, when they become difficult to detect with other systems.

Analog (direct-to-scope) and USB (direct-to-computer) outputs are provided. USB functionality is provided by an Arduino compatible ATMega32U4 and LTC2440 24-bit Analog-to-Digital converter.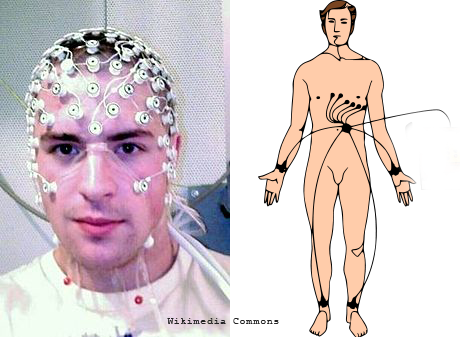 Other features:
USA companies provide all parts, including circuit boards
Safety oriented architecture. Multiple isolation barrier and surge suppressor layers.
Active electrodes, wet and dry designs.
Extreme common-mode rejection measures.
Lowest noise amplifiers, based on new thermal noise research.
Future proof. Modular SATA data cable architecture provides smooth upgrade paths.
Isolation amplifier. Safe, high-resolution analog output for lab equipment (eg. oscilloscopes), sound cards, microcontrollers, and ADCs.
USB support, based on ArduinoDAQ (ATMega32U4 + LTC2440).
Efficient, high-order IIR biquad filters notch out 60Hz, 30Hz and high-frequency noise, right at the embedded microcontroller.
Wide supply voltage support. +/-6V to +/-15V
Resistor programmable gain. 13000x default.
Mirage335's effort was supported by these members of our biohacker group, contributing to the design, testing, and funding of this versatile device:
Shawn Nock
Sharad Satsangi
Stuart Washington
The Real Plato
Logan Scheel
Usage instructions are available on the wiki.
Complete schematics, PCBs, BOMs, 3D printable enclosures, firmware, USB driver software, and documentation hosted on Github:
Additional documentation is available on the project's webpage.
Join the HacDC biohacking community's mailing list: https://groups.google.com/a/hacdc.org/forum/#!forum/meat